Surveying
For Engineering support surveying The Reynolds Group, Inc begins with collection of boundary and topographic information for pre-design investigation. Once this initial step is completed our survey technicians continue their involvement through the detailed design process, construction layout and final as-build surveys.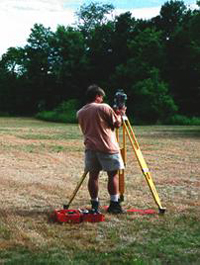 Our Land Surveying experience ranges from large tract surveys to road right of way surveys and includes the preparation of topographic mapping and ALTA surveys. Our construction layout experience includes large commercial facilities, as well as single-family dwellings and retail site plan stakeout.
We pride ourselves as being progressive and innovative in the field of surveying. By maintaining a continuing education program for our staff and utilizing the newest available technologies such as GPS, electronic field data collection, and computer-aided drafting using Auto CADD 2000i.
We are able to provide our clients with quality service in a timely and cost effective manner. The Reynolds Group works within a 250 - mile radius from our central New Jersey office. This includes all of New Jersey, eastern Pennsylvania and southern New York. We hold Professional licenses in New Jersey, New York and Pennsylvania.